Carbine Content Designer, CRB_J-Tal, has been spending quite a bit of time on the WildStar-Central forums lately. This week he talked about the three different progression paths players will be presented with in WildStar. And before you get stuck on the word "Path", the types of progression paths being referred to here aren't tied to the player-chosen Paths of Soldier, Settler, Explorer or Scientist that get selected at character creation. Instead he's referring to ways players can expect to progress through the game, including once they've hit the level cap and have reached the "End Game", commonly referred to by Carbine as "Elder Game".
Let's take a look at the Solo/Small Group forms of WildStar's progression paths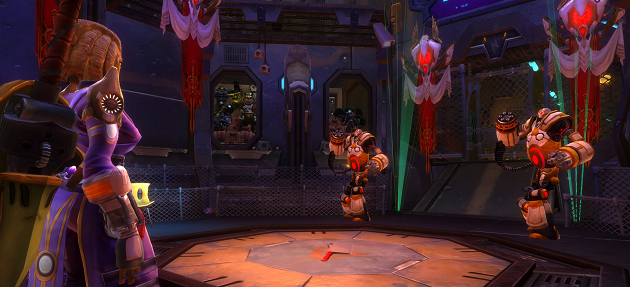 Solo and small group progression is the third major form of progression in WildStar. This is for the group of players who commonly get neglected in a lot of MMOs, even though according to Executive Producer, Jeremy Gaffney, end up being around 60% of the MMO player base. And while the exact definition of a "solo" player could be defined as many different things, the truth is that there are many players who tend to fall into this "Solo/Small Group oriented" category at some point or another, no matter how frequent it may be. For players who enjoy this type of content the most in their MMO, they are often told that once they reach End Game, they either have to raid or do PvP in order to keep progressing. This doesn't seem to be the case with WildStar.
We already know of several forms of small group content such as Housing Expeditions, Dungeons, Adventures and the recently announced Shiphands. Carbine also teased us with another form of instanced content that has yet to be revealed in the "Crossing The Streams" WildStar Wednesday post. However this new instanced type could potentially fall into the PvP side of things for all we know.
Despite this already substantial list of content, WildStar seems to really be keeping solo/small group players in mind
Runescape Powerleveling
by also giving them soloable instanced content that begins at max level. Apart from quests and Dungeons, these solo story instances will help unfold the main story of WildStar and will be expanded upon with content updates so players always have more solo content to look forward to. This isn't including Path content, housing content or even crafting progression, for all of you hardcore crafters out there.